How Your Dog Can Benefit from CBD Hemp Oil

As many are finding out, CBD Hemp Oil has many potential medicinal qualities that range from decreasing anxiety to promoting relaxation. Did you know that CBD Oil may be beneficial for your pet's health too? Nature's Script wants every member of your family healthy, which is why we developed our pet-friendly CBD Hemp Oil. Read more below to find out how Hemp Pet Oil works with your pet's body and the benefits it may provide.
What is CBD Hemp Oil for Pets?
CBD, also known as Hemp Extract, is a naturally occurring cannabinoid derived from Cannabis plants. At Nature's Script, we yield our CBD Hemp Oil from superior-grade Industrial Hemp.
Using a specialized extraction method, we separate our CBD within the Hemp plant into a premium CBD compound. Our CBD Hemp Oil for pets is human-grade, has less than 0.3% THC, and contains no harmful toxins.
CBD, or Cannabidiol, has been highly regarded for helping provide a number of health and wellness benefits for humans. CBD contains therapeutic properties and is known to help reduce stress and anxiety, promote calm and relaxation and more.
Cannabidiol's medicinal qualities are now showing potential in assisting dogs to combat several ailments as well. Nature's Script CBD Hemp Oil is entirely safe and intended for your best bud's health.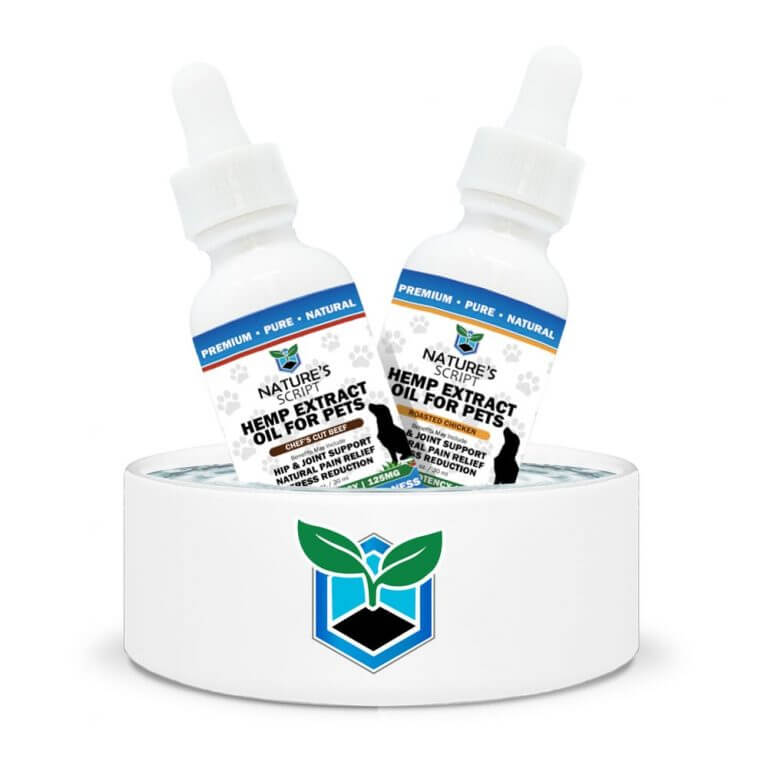 How Do I Give CBD Hemp Oil to My Dog?
We keep your pet's tastes in mind, and our CBD Hemp Oil comes in rich beef and roasted chicken flavors. Dispensed in an easy-to-use dropper, you can drop the desired amount of CBD Hemp Oil onto your dog's tongue.
If you find this method hard or your dog can't contain his or her excitement from the delicious smell, you can always drop our Pet Oil onto one of his meals or treats. Either way, your dog will still be able to attain the potential benefits of CBD Oil.
How Can CBD Hemp Oil Benefit My Dog?
Similar to humans, all mammals have an Endocannabinoid System (ECS). The Endocannabinoid System is a biological system comprised of nerve receptors known as endocannabinoids. Identified as CB1 and CB2, these receptors sit upon your furry friend's central and peripheral nervous system cells.
Your dog's ECS plays a crucial role in regulating numerous functions within his body including mood, immune system health, appetite, pain response, sleep pattern, inflammation levels, and much more. When you introduce CBD Oil to your pet, it becomes metabolized and then binds to his ECS's cannabinoid receptors. Your dog can find benefits from the added cannabinoids which may help the following issues:
Help Reduce Fears & Separation Anxiety
Two long outstanding enemies of the dog have always been the vacuum cleaner, and the moment you leave the house. Loud noises and being left alone may cause your dog to bark, whimper, or even make the in-house 'accident.' CBD contains anxiolytic properties that can promote a calm and relaxed state of mind for your furry friend. CBD Hemp Oil may also help reduce your dog's fears of fireworks and thunderstorms by working with their ECS's to calm nerves signals of stress.
Maintain Joint Health for Longer Walks
Another therapeutic component that Cannabidiol carries is being an anti-inflammatory agent. Introducing Nature's Script Pet CBD Hemp Oil into your pet's diet may help strengthen and maintain their joint health. Natural inflammation produced by humans and mammals is necessary to protect the immune system, but too much inflammation can cause the body to become swollen, stiff and even infected. Pet CBD Oil has the potential to regulate the amount of inflammation within your dog's body, ensuring better joint mobility and longer walks for years to come.
Protect Their Luscious Coat & Skin
Similar to humans, a dog's skin and coat health are essential in warding off external environmental factors. Pet CBD Oil may encourage healthier and enriched skin, helping to prevent dehydrated skin, potential infections and allergies. Another possible benefit of Cannabidiol is maintaining your pup's luscious coat by limiting fur irritations and shedding.
Immune System Boost
As mentioned before, CBD contains antioxidant properties. Antioxidants are crucial in protecting your dog's immune system cells from disease and infections. Giving your pup a daily serving of Nature's Script CBD Oil can help boost their immune system and deliver your pet their necessary vitamins and minerals. Remember, a healthy pup is a happy pup.
All in all, Nature's Script CBD Hemp Oil for pets was crafted for your pets overall health and wellness in mind. We ensure that through third-party lab tests and our in-house manufacturing process, your pet receives a safe and premium product.