CBD Oil for Pets

If you're an animal lover, CBD Oil for pets can help heal your furry friend. While many realize the therapeutic potentials of CBD Oil for humans, studies have shown that CBD, or Cannabidiol, can help boost animal immune systems and reduce pain as well. Humans have something in common with dogs and all mammals: We contain a biological system known as the Endocannabinoid System. This system is responsible for maintaining vital life functions for both animals and humans. Below, you will find out how CBD Oil works in harmony with your pet's Endocannabinoid System and how it can promote a happier and healthier life for them.
What is CBD Oil?
CBD, or Hemp Extract, is a compound derived from the stalk of Hemp plants. Cannabidiol has gained recognition for its many medicinal qualities like relief from stress and anxiety, providing calm and relaxation and much more. Hemp Extract is a non-psychoactive compound and will not cause feelings of intoxication or a "high."
At Nature's Script, we derive our Hemp Extract from Industrial Hemp grown in the United States. To extract our CBD from the Industrial Hemp plant, we use a specialized extraction process. The extraction process is environmentally friendly and regarded for producing the highest-quality Cannabidiol. Above all, this extraction method allows us to deliver high-quality CBD Oil free any other compounds and containing less than 0.3% THC.
How Does CBD Oil for Pets Work?
It starts with your pet's ECS
The Endocannabinoid System is a complex biological system made up of endocannabinoids. "Endo" means "within," so endocannabinoids are produced within the body. In comparison, Cannabidiol is a cannabinoid found in a plant.
These endocannabinoids are molecules that stimulate cannabinoid receptors (CB1 and CB2) located throughout your pet's peripheral and central nervous systems. Your pet's ECS helps regulate essential functions like appetite, stress, pain response, sleep and more. CBD Oil assists in stabilizing your pet's homeostasis – the process of maintaining conditions necessary for survival.
CBD Oil and Your Pet's ECS
When you introduce CBD Oil to your furry friend, it can significantly improve the functioning of their ECS. Animal's CB1 receptors work to sustain their brain, muscles, lungs, vascular system and reproductive system.
Your pet's CB2 receptors work to stabilize their spleen, skin and glial cells. Both cannabinoid receptors are also found supporting their liver, pancreas, gallbladder, bone marrow and brain stem. Ultimately, CBD Oil works to encourage a healthy equilibrium in which your pet's body sends and receives chemical signals that relate to their mood, pain response and health.
Research
A  2018 study on CBD and dog osteoarthritis found that dogs who received CBD Oil had increased comfort and mobility upon returning to their home environment. Further analysis revealed that pet owners who administered a Hemp Extract based product to their pets saw relief from a variety of issues.
What Conditions can CBD Oil for Pets Help?
Due to the fact that Cannabidiol interacts positively with your pet's Endocannabinoid System, CBD Pet Oil has many potential health benefits. Furry friends may receive the following therapeutic assistance from Hemp Extract Oil:
Anxiety Relief - Cannabidiol works with your pet's CB1 and CB2 receptors to help reduce chemical signals that may cause stress and phobias. Cannabidiol promotes a sense of calmness and tranquility.
Appetite Improvement - Whether it's nausea or digestive problems related to appetite, Hemp Extract Oil may help increase or improve your pet's appetite by working with their CB1 receptors.
Pain Relief - Hemp Extract Oil contains pain-relieving properties to help ease all levels of discomfort. Nature's Script offers three different potencies of CBD Pet Oil for varying degrees of pain.
Inflammation Relief - Inflammation can cause allergies, autoimmune diseases and muscle issues for your pet. Fortunately, CBD Oil contains anti-inflammatory agents that can help control their inflammation levels and protect them from external elements.
Increased Joint and Muscle Mobility - CBD may help relieve pain related to your pet's joints and muscles. Reducing mobility issues can help pets who are older and have trouble walking.
Skin and Coat Protection - If your pet suffers from allergies, irritated fur or coat problems, CBD Oil may be the remedy. Hemp Extract Oil works with your pet's CB2 receptors located on cells that control skin growth and oil production.
How Much CBD Oil Should I Give My Pet?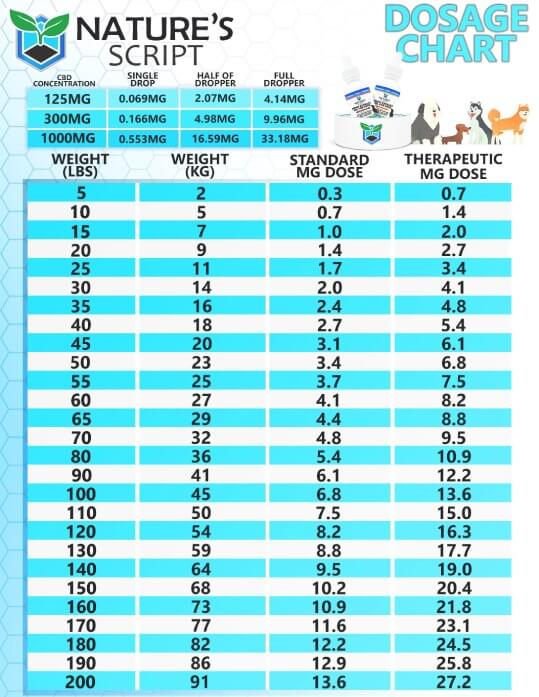 CBD Oil for Pets Serving Size Chart
Furry friends come in all shapes and sizes, which means CBD Oil for pets will metabolize differently in every animal.
Like most supplements or medications, CBD's effects may depend on factors such as your pet's age, size and weight.
We recommend starting with the lowest CBD serving size if you are unsure where to start.
Once you see how your pet reacts to CBD, you can always move up in potency.
Nature's Script has formulated a serving size chart based on your pet's weight that you can view below.
Standard Serving: General immune/health support. Situational, i.e., Separation, thunderstorms, travel, crowds, during grooming or situation that may cause anxiety.
Therapeutic Serving: Anxiety, Arthritis, Inflammation, Hip Dysplasia, Nausea or Vomiting, Pain
Overall, Nature's Script CBD Oil for pets provides your best friend with a comforting feeling as well as pain-relieving sensations without any harmful side effects. We understand that your pet's health is just as important as yours.