Nature's Script 2019 Year in Review

Nature's Script has experienced a wonderful year of growth and we couldn't have done it without you. Going forward, we want you to know that our main priority is compliance and product reliability. We hired a vice president of compliance in July to ensure that we align ourselves with the FDA's proper packaging and labeling requirements. Our goal is to provide you with trustworthy CBD products to potentially benefit your overall health and wellness. From moving into a new facility to setting the gold standard for CBD products, we want to continue our momentum into 2020. Before we do that, take a look at our year in review and all that we accomplished in 2019.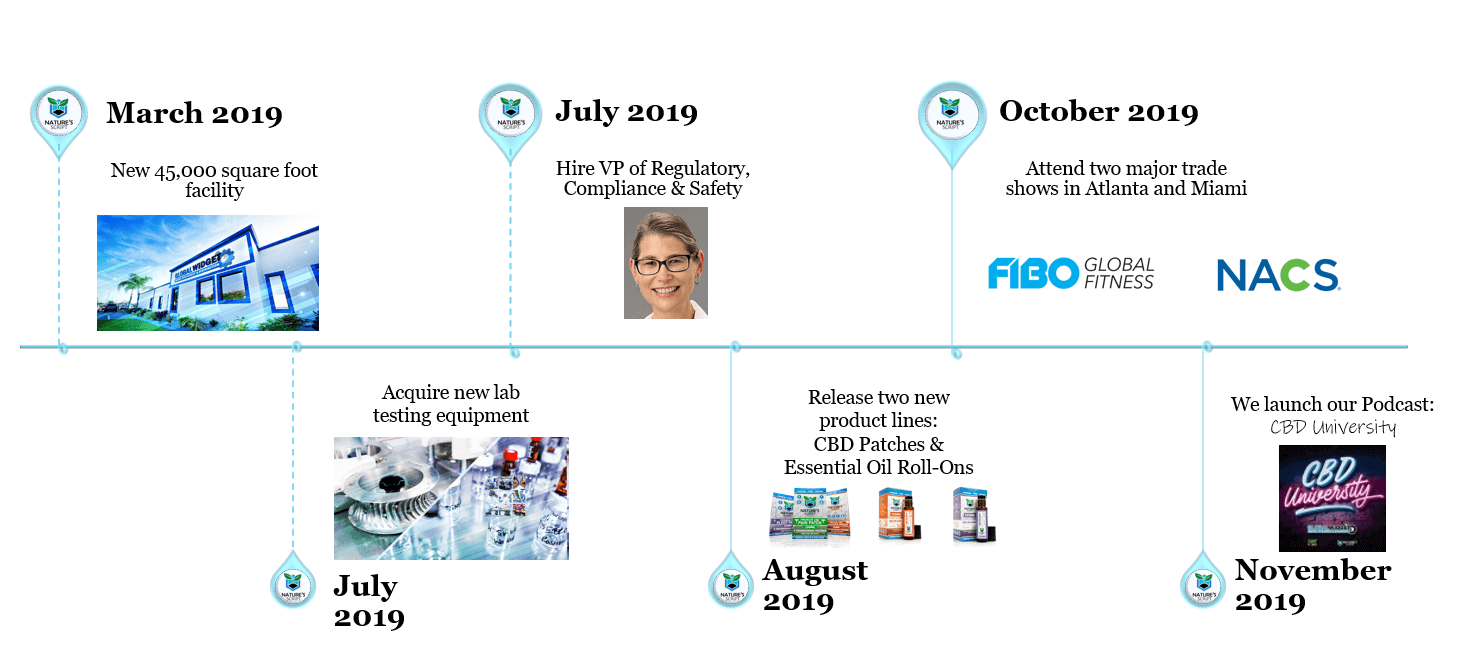 1.) March 2019 – We move into our 45,000 sq. ft. facility, allowing us to focus our efforts on setting industry standards in the quality manufacturing of CBD products.
2.) July 2019 – We acquire our new lab testing equipment, allowing us to produce our unique line of CBD Gummies and test all our CBD products for accuracy and quality.
3.) July 2019 – We hire Margaret Richardson, our Vice President, Regulatory, Compliance and Safety, knowing that customers prioritize quality and safety when choosing CBD products.
4.) August 2019 – We release two new product lines: CBD Patches and CBD Essential Oil Rollers – five new products in total, making sure we keep up with our customers' demand and satisfaction with our products.
5.) October 2019 – Nature's Script attends two major tradeshows – FIBO and NACS, expanding our reach into the market and offering information and education on CBD.
FIBO – World's biggest trade show for fitness, wellness and health.
NACS – Industry-lead July 2019ing association for convenience stores.
6.) November 2019 – We launch our very own educational CBD podcast: CBD University, which discusses all things CBD to enlighten and empower our customers and business partners. CBD University is available on YouTube, Spotify, Soundcloud and other streaming platforms.
Your Favorite Products of 2019
---
We're excited to provide you with premium CBD products, education, recipes, and more throughout 2020.