Nature's Script Holiday CBD Gift Guide

Follow Nature's Script's Holiday CBD Gift Guide to find the perfect present for all the special people in your life. We made find finding a gift easier than ever this year. You can shop our premium CBD products by price or by stocking stuffers. We also have product recommendations for specific lifestyles. After all, the holidays are much more enjoyable when you spend them in total relaxation and comfort.
Give the gift of Nature's Script to show your friends and family that you truly care about them this holiday season. With Nature's Script premium Hemp products, we guarantee that your gift won't go unused or regifted. Spread holiday cheer with our gift guide by introducing those you hold dear to a world of health and wellness benefits.
If you have a friend or a family member who works tirelessly decorating and preparing for the holidays, we have the perfect product for them. Show appreciation for those who work the hardest in your life by giving them the gift of mental clarity and tranquility. Nature's Script CBD Oil is one of our most potent Hemp Extract products, delivering benefits that may help optimize and balance wellbeing. Our CBD Oil is availble in six delicious flavors and five potencies.
Our CBD Oil contains Hemp Extract we derive from Industrial Hemp grown on American farms. The Industrial Hemp grows in sustainable soil free of any harmful pesticides, heavy metals or toxins. A few drops of Nature's Script CBD Oil will help the workaholic in your life attain a sense of calm and relaxation this holiday season.
The athlete in your life is going to love our CBD Pain Gel. Whether they play a sport or workout frequently, Nature's Script Pain Gel will help your friend recover and revitalize areas of muscle pain. Comprised of Hemp Extract, our topical Pain Gel provides a soothing and cooling sensation from aches, strains and more.
Nature's Script Pain Relief Gel can be applied before or after physical activity to help encourage joint and muscle mobility. Our CBD Pain Gel can be applied up to four times a day to deliver long-lasting relief for stubborn pains. Even Frosty the Snowman will want to get his hands on this product!
We all know someone who falls alseep with the TV on or stays up all night waiting for Santa to show up, only to wake up feeling groggy and tired the next morning. With Nature's Script CBD Gummies, your sleep-deprived loved one can say goodbye to their restless nights. Our delicious and chewy Hemp Extract Gummies come packed with a potent serving of CBD that can provide a healthy night's rest.
One of Nature's Script's newest editions, CBD Sleep Gummies, contains a blend of CBD and melatonin to encourage a calming and relaxing state of mind that'll ease even the worst sleeper into a peaceful slumber.  Give the gift of better rest and health this holiday season with our CBD Gummies collection!
If you're a pet owner, you know one of the greatest joys of the holidays is seeing your furry friend open a present that is just for them. Let them unwrap the gift of total health and wellness this year with our Hemp Pet Oil and CBD Dog Biscuits. Your canine will absolutely love the taste of our Chicken and Beef flavored CBD Oil as well as the crunchiness of our CBD Dog Biscuits.
With all the commotion of guests and decorations, our CBD Pet products may help ease your pet's anxiety and stress. Making your pet feel comfortable and relaxed this holiday season means more time for belly rubs and tail wags. At Nature's Script, we verify the safety of our Hemp Pet Oil through third-party lab tests to ensure that your pet is receiving a high quality CBD product, intended to help benefit their overall wellness.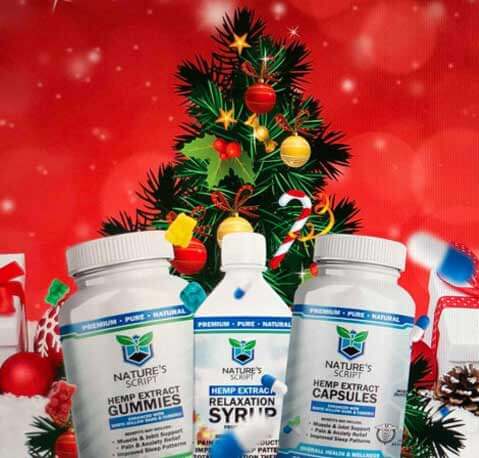 Benefits of Hemp Extract (CBD - Cannabidiol)
CBD, or Hemp Extract, continues to be one of the most popular health and wellness products of the year, and rightfully so. CBD is an all-natural compound, known as a cannabinoid. We obtain our Hemp Extract  from Industrial Hemp plants grown on American farms. Many have reported that CBD has provided therapeutic assistance, including relief from stress and other discomforts while offering total relaxation and comfort. CBD is non-intoxicating and will not cause any feelings related to a "high." Our premium CBD is sure to be the reason you jingle bell rock this season.